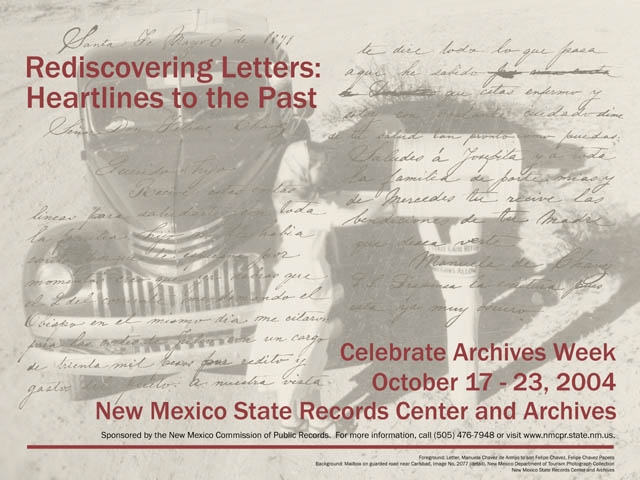 ARCHIVES WEEK 2004
SCHEDULE OF EVENTS
October 17 through October 23
REDISCOVERING LETTERS: HEARTLINES TO THE PAST
MONDAY, October 18, 4:00 p.m. – 6:00 p.m.

Opening Reception, Room 2027
New Mexico State Records Center and Archives
1209 Camino Carlos Rey, Santa Fe, New Mexico

Archives Week 2004 recognizes and celebrates the art of letter writing and its place in New Mexico history. State Records Administrator Sandra Jaramillo will deliver the welcome address and read Governor Bill Richardson's proclamation. Santa Fe Postmaster Ruben Romero will speak and introduce keynote speakers Barbara Buhler Lynes and Ann Paden, co-editors of Maria Chabot/Georgia O'Keeffe: Correspondence, 1941-1949. They will speak about the book's letters, which reveal much about daily life in Northern New Mexico as experienced by these two exceptional women in the 1940s. A book signing will follow. Refreshments will be served.

TUESDAY, October 19, 7:00 p.m. – 9:00 p.m.
Historic Film Screening, The View from El Delirio: Amelia Elizabeth White's Home Movies
Lensic Performing Arts Center
211 West San Francisco Street, Santa Fe, New Mexico
The State Archives presents selections from the Amelia Elizabeth White Home Movie Collection, 1926-1933, recently preserved through support from the National Film Preservation Foundation. Ms. White's films document her regional travels throughout the Southwest and life at her Garcia Street estate, El Delirio (known today as the School of American Research campus), from informal pool parties to the canine activity at her Rathmullan Kennels. A highlight of the collection is her 1920s footage of the Fiestas de Santa Fé, shot in the early amateur color format Kodacolor.
FRIDAY, October 22, 7:00 p.m. – 9 p.m.
Office of the State Historian
Legacy of Letters: A Reading and Performance
James A. Little Theater at the New Mexico School for the Deaf
1060 Cerrillos Road, Santa Fe, New Mexico
As part of a celebration recognizing the importance of letters as illuminating sources of New Mexico's history, the Office of the State Historian will hold a special reading and performance. More than twenty-five letters will be brought to life with a musical and theatrical performance that will literally stage the public and private voices that emerge from correspondence, the sentiments of the writer and the transformative power of letters upon individual recipients and society alike. These letters bear witness to the moments in time and place in which they were written, but their existence, though sometimes fragile, remains as timeless testament, inviting us to listen and learn from the past.
2004 ARCHIVES WEEK SPONSORS
Schedule is subject to change. Please call (505) 476-7948 or visit our events calendar at www.nmcpr.state.nm.us